This was it. The moment we'd been waiting for. Arsenal had just won the league... no wait, not that one. Ah yes, it was Everton v Liverpool in the FA Cup Semi- Final at Wembley. It was here, the moment I'd been counting down the days for 2 weeks and 4 days. Ever since we drove back from The Stadium Of Light (Sunderland, not Benfica) on Tuesday 27th March 2012, we were excited about this day, especially me.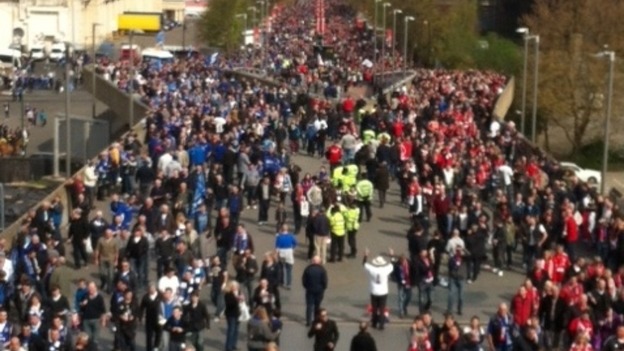 I got up in bouyant mood, knowing that the game was only 4 or so hours away. We bathed (not together) in the hotel room, then headed down for breakfast. It was like the last semi- final we were in London for, we were surrounded by other football fans, this time some were in blu and some red. What it meant was, we were surrounded by scousers. I'd forgotten to wear trousers with zips on the pockets to protect my phone and wallet. Damn.
Anyway, we enjoyed the brekafast; fruit (pineapple, melon, watermelon for me), sausage, bacon, beans and hash browns. Mmm, yum. I then grabbed an apple and a lovely chocolate muffin on our way out as we headed to Wembley. I think we set off at about 9.40am for the 12.30pm kick- off. Destination: Wembley Stadium. ETA: 11.00am. Mission: Enjoy the game and hope to come back later excited about another trip there in May. We walked about 4 miles to the ground, eventually got there after a couple of dodgy detours and saw seas of blue and red making their way to the match. It was great, the time was nearly here and as silly as it may sound, I enjoyed seeing all the other fans and walking up Wembley Way, it's a great buzz for an avid football fan like myself. My Dad took a picture of me at the scene and I then bought an Everton Wembley scarf for £10. £10! Good job it was my Dad's money.
We then had a wander round half of the ground to our turnstile and made our way inside. 'cbdjcbaebfoefamfaf?' the steward inside said. 'What?' I replied. 'Ddfnjdsbfjsfaf.' God knows what this guy was saying. I couldn't hear him. I don't know why, there wasn't a massive amount of noise, he was right in front of me and he was supposedly speaking English. He said it again and I heard it a bit clearer. It was something like 'Can I search you Sir?'. 'Yeah' I casually answered. Why did I say that? I may as well have just said no. I don't want some steward putting his hands all over me. i just want to empty my man trunk and go to my seat. Well anyway, he searched me and found the bomb. But he let me in anyway.
We went to our seats, Dad not having being searched (ageist bloody stewards). The sun was still shining, in our eyes as well but I didn't care. The view was terrific, the seats were great and we were half an hour or so away from kick- off. Just enough time to soak up the atmosphere and enjoy the pre- match build- up. the 'how they got here' on the big screen, reading the programme I also got outside the ground and looking around for people we knew form Goodison. Unfortunately, we didn't see anyone around.
Then the time arrived. Kick off. The atmopshere was great and I was enjoying every moment of it. The game was good, it was quite even and the occasional chance came about for both teams. I don't want to talk too much about the actual game because it still hurts a bit. I know you're thinking 'Hurts? You're a bloody Arsenal fan Tom.' But yes, I was very disappointed. My dreams of a return for the final had been dashed. And to make it worse, if anything, Everton had been ahead for about 1/3 of the game and behind for only 4 minutes or so. It was quite hurtful, I was desperate for Everton to win and pretty much always expected them to from the moment they knocked out Sunderland. My confidence had decreased after Liverpool won earlier in the week at Blackburn in the final minutes of the game, but I still fancied the Toffees.
We walked and bussed it back to the hotel, disappointed. The rest of our day and trip was somewhat muted to an extent by the dejection of the defeat. We later had tea at 'Garfunkel's' where I had a nice Spag Bol and lovely chocolate fudge cake with ice cream and chocolate sauce. Lovely jubbly indeed.
We also went to the cinema again after discovering 'Noises Off' had sold out at the theatre and we were an hour too early for the next performance at 'The Comedy Store'. We ended up going to see 'Cold Light Of Day', which was much better than Contraband, probably a 7.5 out of 10.
We then wandered around Piccadilly for a bit and sat in an empty cafe having a drink. The night wasn't one of rejoicement, but we were having quite a good time still, drinking an in empty cafe while the presumed owners stared at us aside. Though that wasn't bad, quite amusing actually.