Sunderland were right to sack Martin O'Neill. I can't understand why people would say otherwise. He isn't delivering results or performances and Sunderland are in a desperate situation and, argubly, in freefall.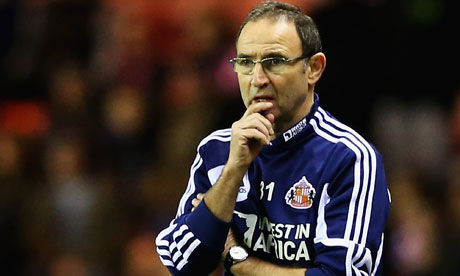 First of all, Sunderland are on a nightmare run of results. They've won none of their last 8 matches, getting 3 points in the process. But it's not just a blip, they've won 7 games all season after spending £30 million on new players. They bought poorly- Steven Fletcher for £15 million is a joke, O'Neill, supposedly renowned for 'getting the best out of his players' has failed to do so big time with Fletcher and especially Adam Johnson. He also never really gave Louis Saha a chance, a proven goalscorer in the Premier League. And what has been Sunderland's main problem this season again? Oh yeah, scoring goals.
I think a team spending £30 million on players in a season should be well away from the relegation zone and I don't see what valid excuse Martin O'Neill could have for this.
The other major aspect with O'Neill's Sunderland is their performances have been so consistently dire. They're one of the worst teams to watch, entertainment- wise, in the league. They don't create many chances, they don't play any good football and they score very few goals. The results aren't there and the performances aren't there, and neither is a good style of football. Plus, it's not even like he's made Sunderland a really solid team and hard to break down, they concede a fair amount and don't seem to keep many clean sheets. They conceded 3 at QPR, 2 at home to Fulham and I haven't seen Arsenal create so many chances at Sunderland as they did a few weeks ago before,we ran riot and even created a few with 10 men on the pitch. Sunderland only looked dangerous in that game after we went down to 10 men when Carl Jenkinson got sent off.
So if I list what Martin O'Neill brings to Sunderland, it is evident that he had to go:
Poor results consistently
Very few wins
Poor standard of football- ugly to watch
Poor performances
Lack of solidity
Lack of value for money in signings
Failure to solve vast under- performing of players (when he's supposedly good at this). Adam Johnson, McClean and Sessegnon are great examples
Plays players out of position a lot
So the question is: what exactly is Martin O'Neill bringing to Sunderland that's positive? That's worthy of him being in the job?
Why wouldn't you want to replace him now? I can imagine a lot of people saying that they've sacked him at a silly time, with only 7 games left but why would you leave him in charge? Is he more likely to save them than another manager coming in? Probably not given how they've looked over recent weeks and months, they don't look like turning it around under him. They could do with a fresh approach, fresh ideas and tactics, the fact is that O'Neill isn't doing anything that suggests he is the right man for the job. The only thing that benefits him is his reputation of having done good jobs at Aston Villa and Leicester in the past, but is his good reputation going to help Sunderland avoid relegation? No. Good management is going to help Sunderland and Martin O'Neill isn't delivering that and hasn't been for a long time so why should Sunderland stick with him?