If England want to move forward, they need to deploy the managerial philosophies of the likes of Arsene Wenger, Roberto Martinez and Brendan Rodgers. Managers of this nature just let their flair players do what they want and allow them to make mistakes.
I've been regularly watching and studying Martinez's management of Everton and in particular, Ross Barkley and his other attacking players. It's clear how he has positively influenced them. His management of them is terrific as he gives the likes of Barkley more license to express themselves and be creative without restricting them to playing with inhibition and burdening them with instructions to play simple, and then criticizing them when something exuberant goes wrong.
This added license gives them more freedom to express themselves and their ability because they haven't got the fear of their manager playing hell with them if they lose the ball or make a mistake. This gives them more confidence and adds authority to their game and the result is a better, more effective player.
Look at what Roberto Martinez has done for Ross Barkley in just two months. The lad has the license to drift, be creative and be exuberant with the ball without the fear of an angry reaction if something complex he tries doesn't come off. Arsene Wenger, Brendan Rodgers and Michael Laudrup are the same.
In this country our footballing culture and general philosophy is to berate players who have the courage to try to be skillful and take attacking risks. As a kid you can be playing in a match, try to Maradona move someone, fail and be slaughtered by teammates, your manager and parents on the touchline. "Come on, play the simple ball". There's also too much hoofball and smaller, skillful players are the victims of the British football culture as the game passes them by and they are imprisoned by the critical nature of managers, fellow players and spectators. This inhibits them, makes them less confident and less expressive and, as a result, less effective.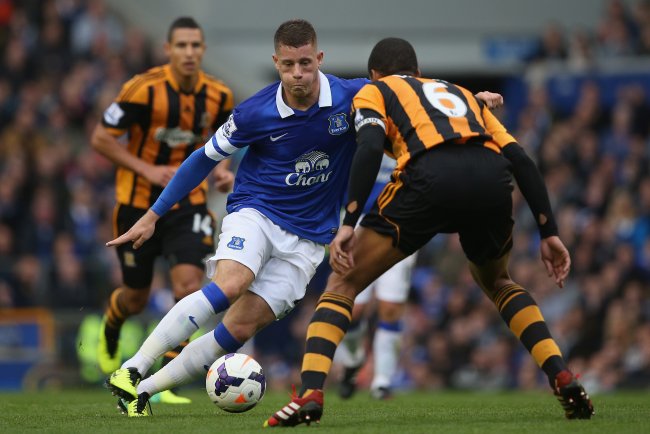 If you compare that to countries like Spain, their footballing culture welcomes skill and exuberance and doesn't give into to the pressure to resort to long ball tactics where the game simply bypasses the gifted footballers.
Gary Lineker recently spoke of this sort of thing and he was totally spot on for me.
"[We need to] allow talented young players to express themselves on the field, to take people on, to try a trick, all without the dreaded, predictable rubbish cascading into their ears."
I play Sunday league football and there are a lot of people there who are very encouraging and my team doesn't vocally criticize me, but there are some people at every game who criticize people for "taking too many touches" or "not playing the simple ball". Our footballing culture needs to welcome creative and courageous players and give them the license to be more complex on the ball, because players like this are very talented and will be very effective when given this freedom, as Barkley is showing at Everton.
That's not what you want as a player. Of course there's a difference between Premier League football and Sunday league football but I'm sure the likes of Sam Allardyce are very critical of skillful players in this regard too. That's not the way forward. You don't want creative, courageous players like Ross Barkley to feel caged within the confines of a football philosophy that includes a manager and players who lambast him when he makes a mistake. They should be given the freedom to go out and express themselves and this will bring the better out of them.
This is what England need to do with the likes of Wilshere, Barkley, Chamberlain and Ravel Morrison. That's the way forward in all walks of football- to give your creative, attacking players the ball to feet on the floor and let them express themselves and make sure they're not scared to try complex, creative things by encouraging them.
*Images courtesy of the following websites/sources:
http://news.bbcimg.co.uk/media/images/67940000/jpg/_67940397_martinez2.jpg
http://img.bleacherreport.net/img/article/media_slots/photos/001/150/963/hi-res-185350259-ross-barkley-of-everton-attempts-to-move-past-curtis_crop_exact.jpg?w=650&h=434&q=85
http://ripley.za.net/wp-content/plugins/rss-poster/cache/f096c_a6a39_120704102710-iniesta-xavi-horizontal-gallery.jpg