In this article, I will be rating each player that has played in goal and in defence for Arsenal this season out of 10. 10 obviously being the highest, 1 the lowest.
Wojchiech Szczesny
8/10. Someone who has come on leaps and bounds over the last year and a half and has been a massive part in Arsenal's season. His incredible penalty save at Udinese in August in the Champions League qualifier comes to mind, one of Arsenal's biggest games in years gone by and he managed to stop a very good penalty to make sure Arsenal maintained their strong lead in the tie. Not only that, he made another incredible save at home to Sunderland in October just before half- time to prevent Arsenal going 2-1 down, before we then went on to win 2-1. He has made a lot of very good saves, commanded his area very well, which has been a failure of Arsenal's goalkeepers since the days of Jens Lehmann.
He's made a few errors, which are stopping him from getting a 9, like at home to Norwich recently and the phase he has of very riskily passing the ball out, but getting away with it. Sometimes he has given it away and put Arsenal in trouble that way, which is probably the only thing that's stopping me from calling him 'world class' at the moment. He needs to stop doing that so often next season, because it puts the side in defensive jeopardy sometimes and it's bound to cost us at some point if he keeps doing it. But overall, it's been a great season for the confident Pole.
Lukasz Fabianski
6/10. It's hard to give Fabianski a high rating because he's hardly played. He's only managed a handful of games in the cups and one in the Champions League (where I think he made an error and came off injured early on). He's done OK when he's featured, we don't know how much pressure he's putting on Szczesny for the number one spot, because it would help Szczesny's performances if he was threatening to budge him out of the team.
Vito Mannone
5/10. He's only made one appearance I think, which was as a substitute in the Champions League at Olympiakos when he came on and was at fault for a goal. I've never really thought he looked good enough for Arsenal.
Bacary Sagna
7/10. He's been out injured for four months or so and yet still looked like one of the best right backs in right backs business. I've always loved Sagna and thought he was the best right back in the Premier League, as well as being perhaps the best right back in the world. He had a bit of an off- night at home to Wigan back in April but other than that has defended as brilliantly and reliably as ever, whilst improving his attacking attributes this season, as I think his crossing has got better. He also notched an incredibly important goal against Tottenham in the 5-2 win against them back in February, argubly Arsenal's most important goal of the season.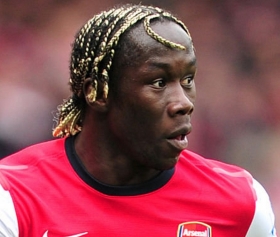 Carl Jenkinson
7/10. It's been his first season at Arsenal and in the Premier League, and he's impressed me. He's been playing back- up to Sagna, so has been given quite a lot of games this season, mainly at right back, while Sagna has been out. He looks defensively solid,reliable and quite quick. He's well built, strong, determined and doesn't take silly risks, a no- nonsense defender. He's also improved his attacking attributes while at Arsenal, inclduing his crossing, passing and runs forward. He looked to me like he peaked in the West Brom home game, after he had a good run of games, but then got injured unfortunately. But he's done well when in the side, especially considering his age and inexperience in the Premier League.
Kieran Gibbs
7/10. Like Sagna, his season has been blighted by injury but when he has played, he's shown real talent once again. He's my favourite Arsenal left back and agree that he's first choice material. He's been caught out coming too far inside on the odd occasion this season, coming too close to Vermaelen and leaving a big gap behind him, but other than that he's been very good. Like Sagna, he'd have probably got an 8 if he had played more games, he just needs to keep himself fit more next season/ He additionally notched two goals (Shrewsbury and Aston Villa).
Andre Santos
6/10. He's a good full- back going forward, but quite lousy defensively. A panic buy from Wenger in his summer of madness and it's shown. The bloke just can't defend, he isn't suited to this league because he doesn't have the determination, winning attitude or seriousness about his game. What irritates me about him is how casual and lackadasical he is in possession, he looks like he's just having a knock about in the park with his mates, trying to show off. He's quite dodgy defensively and has nearly been very costly on a number of occasions (Marseille away and Aston Villa at home in the league are just two examples). Having said that, he's grabbed 3 goals, a couple of which were very important and I remember him making a great block just in front of me at Wigan back in December to keep it at 0-0 (we went on to win 4-0) so he's had some ups, but I'm afraid he isn't really good enough for Arsenal, in terms of quality of defending and attitude.
Nico Yennaris
7/10. Obviously, he's only made a few appearances, mostly in the cups, but when he has come into the team, he's been impressive. He came on at home to Man Utd for Djourou at half- time when he'd been given the run- around by Nani in the first half and he managed to keep him a lot quieter than Djourou did. He played well at home to Aston Villa in the FA Cup I think and has looked pretty good when he's come in, especially when you consider he isn't really a full- back, as apparently he's more of a centre midfielder.