In light of the Robin Van Persie saga, I've decided to write a rather more professional, calmer article than yesterday. Like all Gooners, I'm gutted at the news that he won't be extending his contract and is prepared to turn his back on the club that made him the player he is now and that has always supported him and showed great faith in him.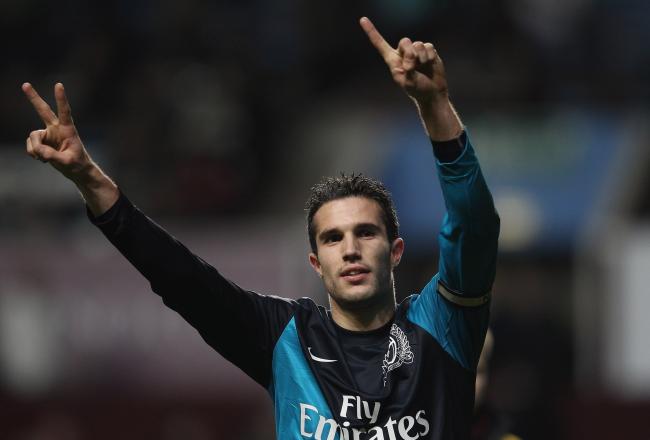 But what are the options Arsenal have with the wantaway Dutchman?
One option is to sell him now. But how much could we get for an imminently 29 year old who only has a year left on his contract? We saw last year that Man Utd wouldn't pay the money Arsenal wanted for Nasri when he only had a year left on his contract, and he was 24. I think the only teams that would pay that money are Man City and Paris St. Germain. I can't see him wanting to go to PSG and the French League in a hurry, so that would leave just Man City.
I would only sell him for £30 odd million or more to an English rival but I would let foreign clubs like Juventus, Real Madrid and even Barcelona have him for about £20- £25 million. I would much rather us sell him abroad than to a league rival, especially baring in mind it would be to a team I hate as well.
So I think the only club that would pay that sort of money for Van Persie are Man City. Chelsea at a push, but with Torres' form looking resurgent and them having already bought Hazard for a lot of money, I don't think they'd spend more than £20 million or so on him.
The big disadvantage with selling him to another English club would that it would significantly strengthen one of rivals, whilst significantly weakening us, therefore it wouldn't be a good move. So I'd only accept 'silly money' from an English club.
The other option is keeping him until the end of the season, thus risking losing him on a free to any team at the end of the season. The advantage of keeping him for another season is obviously that we get another season out of him, but the problem is what sort of season will he have? We could turn down a £20 million bid from someone, then he gets injured for 4 or 5 months and plays half- heartedly for the rest of the season.
So the judgement on that has got to come from the senior people at the club. They have to say 'right, if we keep Robin, will he give 100%?' And if the answers 'no', then we should sell him. If the answer is 'yes' then we should keep him unless a foreign club comes in with big money for him (i.e. £25 million or above).
So, to sell him or not to sell him, that is the question. I personally would keep him until a good enough offer from a foreign club comes in... and then I'd get shut of the ungrateful crock. There are many problems with selling him; we lose our best player and captain, we lose his goals and link up play and we will find it a lot harder to attract very good players, hence struggle even more for proper success.
The answer for me is to let Usmanov take over, give the manager some money to spend, do all we can to get Van Persie to sign a new contract (us fans are already at it on Twitter, laying the guilt trip on him) and if Wenger doesn't spend the money and show enough ambition, get shut of him and replace him with an ambitious manager who buys better players and wants success enough that he will adapt his game plans, transfer policies and tactics at times in order to achieve it. Plus, the other advantage of getting a new manager would be that maybe he'd show the ambition that would make Van Persie want to stay and sign a new contract.
Simples... right?