Alex Song is the unsung hero of Arsenal. I think he gets a lot of praise from Arsenal fans and Arsenal players, but outside the club, he doesn't seem to get the credit he deserves. If Luka Modric, Steven Gerrard or Paul Scholes had played some of the passes he's played this season, pundits and the media would be raving about it like mad.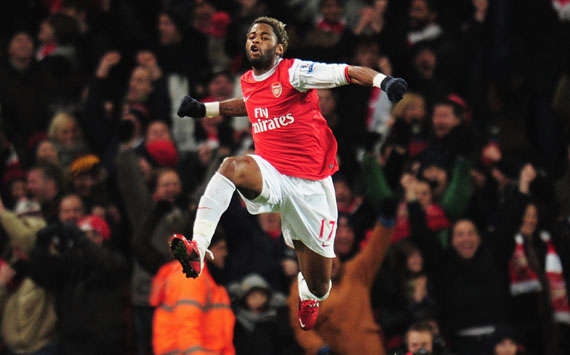 Some of his passes and assists this season have been terrific this season. We've had two good examples over the last week, with his assists for Walcott's second goal against Tottenham and Van Persie's second goal against Liverpool. They were both magnificent passes and his creativity has been key to Arsenal this season. He has really stepped forward this season as more of an attacking force, more and more as the season has gone on, and he should only get better at this side of his game as he gets older over the next few years.
One thing he can be frustrating with is holding onto the ball too long. Sometimes he gets the ball and stalls too long, or takes too many touches before passing and that often ends up in us losing the ball and the opposition building an attack, so he needs to work on that.
But, to be fair, he's generally very solid defensively. He's strong, quick, fit and is a good tackler. But this season he has added this creativity and attacking mentality to his game. I do think this had negatively affected the defensive side of his game, as more gaps seem to be appearing between the defence and midfield, especially on counter- attacks. So, what he and the coaching team and manager need to do at Arsenal is find the right balance with him and instruct him when to go forward, and when to stay back and cover the defence. He can also have a shared, well communicated responsibility with his fellow midfielders, like Arteta, so we always have one midfielder sitting in, protecting the back four.
He is generally a marvellous player, who has come on leaps and bounds since around 2008 when he actually looked quite dozy. He is one of the Premier League's finest midfielders now and I geuinely wouldn't swap him for a lot of players most pundits would have you believe are better than Song, such as Modric. What can Modric do that Song can't?
And, did you know that Alex Song has more assists this season than Luka Modric and Scott Parker combined? He is a fantastic player that Arsenal need to tie down to a longer term contract as soon as possible. People talk about sorting out Van Persie's contract, but Alex Song's contract situation shouldn't be much further down on the priorities list. (His contract runs out in the summer of 2013, like Van Persie).