No this isn't a review of the highly entertaining and amusing Only Fools and Horses episode, it is an article about how Arsenal, despite their troubles and inadequacies at the moment, have time on their sides.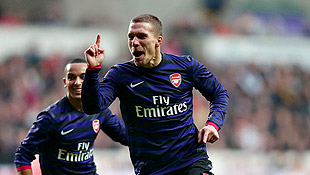 Yes Arsenal are 7 points off the top four and lie in 6th place, dangerously hovering above Liverpool and West Brom on goal difference but we do have a game in hand on our rivals and 4 months left of the season to put things right and finish in the Champions League places. What's more is that we've also got the FA Cup to win. So whilst the club is under- achieving, showing signs of decline and on poor form, there is still hope of a reasonably successful season if they buck up.
We have three home games now against West Ham, Liverpool and Stoke. All games we should be winning and if we get 9 points out of 9 there then we're back on track, in the league at least, and ready to go on and really challenge convincingly for 4th place. I think Chelsea are now unfortunately realistically out of reach for us. 11 points for an inconsistent team is a bit too much of an ask.
What we also have going for us is that we have an easier run in of fixtures to our rivals. We've got Man City and Chelsea completely out of the way with now and we've also already been to Man Utd, Everton, Liverpool and Stoke so the only really tough games we have now are Man Utd at home, Tottenham away and Everton at home.
Whereas Tottenham and Everton have got harder fixtures. Tottenham still have to go to Liverpool and Stoke and play Man City at home as well as go to Chelsea and play us and Everton at home. Everton still have most of the top teams away from home; Man Utd, Chelsea, Arsenal, Tottenham and Liverpool as well as Man City at home. Liverpool have to go to Man City and Arsenal and play Chelsea, Tottenham and Everton at home.
So overall, out of the teams chasing 4th spot, we have the easiest fixtures, but we do have a points deficit. We need to take advantage of those better fixtures and, for the first time this season, be consistent and collect the number of points we should and truly give 100% to win the FA Cup to end our barren run of not winning trophies to instill more belief, confidence, optimism and joy around the club, as well as making us a more attractive team to other players. Not to mention taking the pressure off as well.
We still have around 4 months to put things right and are still in with a chance of a trophy. We're still in the Champions League and should try to do as best as we can in that, see if we can at least get to the Quarter finals and that would help our confidence and momentum in the league. Imagine what knocking Bayern Munich out of the Champions League would do for the team's confidence and belief.
We still have time, and we must use it.
(Image source:
http://a.espncdn.com/photo/2013/0106/soc_g_podolski_310x175.jpg
)