I'm not often one to promote cautious football, but being an Arsenal supporter does ingrane a certain urge for it, having watched them suffer from their open style of play for so many years. Arsenal don't need to win here. A draw would be fine and I'd take that now.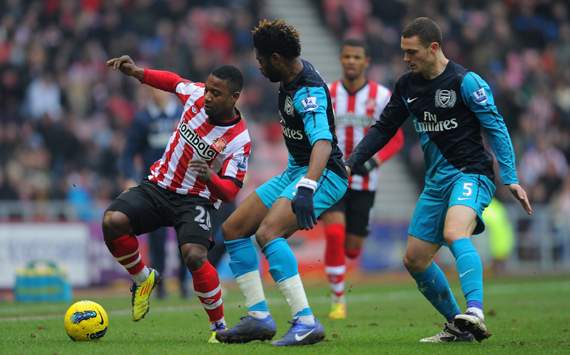 If we draw, we will get a replay and play them at home, where I think we'll have a much better chance of winning. Also, if we do lose, it could send us further into another negative spell where we find it hard to pick ourselves up, and not only would be out of the FA Cup and Champions League, but our league form could suffer from this too.
Therefore the paramount aim of tomorrow's fixture has got to be 'don't lose'. I remember us going to Braga last season in the Champions League group stages where we'd just lost to Shakhtar Donetsk and our place in the next round had started to look less certain. We'd just had that humilating 3-2 defeat at home to Tottenham in the league and all we needed was a point to have a really comfortable position in the group. Braga sat back and defended, looking to catch us out on the break and Arsenal went gung- ho in the second half, piled players forward when they didn't need to and ended up conceding on the break and going on to lose 2-0 late on. It was trademark Wenger at his worst. We didn't NEED to win and it put us in a diffuclt position for the last game of the group that we wouldn't have been in if we'd have accepted the draw rather than being so silly. It's one of the areas of the game where teams like Man Utd seem to do better than us. They'd have played that game smarter. And tomorrow's fixture is similar to that scenario.
So, yes, go for the win, but don't go all out attack in search of it. We need to make sure we don't lose. We don't HAVE to win. Also, I'd get Chamakh in the team, which is not soemthing I say too often. The reason I say this is because Sunderland will play the same way they did last week, probably, which is them playing defensively and trying to catch us out on the break, as well as flooding the midfield and making it hard to carve them open. Therefore we will get forced out wide a lot and it would be nice if we had an aerial threat in the box to aim for when throwing crosses into the box. Another tactic that needs to be used here is getting other people in th box to help him out. Say to Gervinho: 'Look, when Chamberlain or Sagna get the ball on the right, get yourself in the box' and vice versa, same with Ramsey, or whoever else is playing in the attacking central midfield role, because we should get more players in the box. That's only 3, not too many so we don't get caught out on the break.
We played Sunderland a week ago, we know what they're about, what tactics they'll use, how they'll try to hurt us and stifle us, let's use that to our advantage.
This would be my team (assuming Koscielny's out):
Szczesny
Sagna Song Vermaelen Gibbs
Benayoun Coquelin Arteta
Chamberlain Chamakh Gervinho
I would usually say go 4-4-2, but given as we don't have to win and Sunderland will flood the midfield, this is one of the rare occasions where I would actually play 4-5-1. I'd rest Van Persie and bring him off the bench if needed, because he had little joy at Sunderland last week, due to them marking him tightly and in numbers, and they'll do that again. Additionally, we need to do all we can to prevent him getting injured, and playing too many games could cause this. The manager needs to get into Chamakh before the game and say 'Look, you need to improve your game and try harder. Put yourself about more, be less casual, be brave and do your best to show me why should be in the team more.'
If we do this, we should get a positive result tomorrow and still be in the hat for the FA Cup draw on Sunday.
Come on Arsenal!!!!!